Antipasto, Assorted italian charcuterie with marinated mediterranean vegetables
1 pers. 115:-
2 pers. 199:-
Pesce marinato con agliata  Sea bream pickled in white wine vinegar with herbs, served eith boiled potatoes, fresh chilis, red onion and garlic sause
110:-
Tuna Tartar – Minced tuna mixed with oliv oil,lemon, scallions, salt and peppar, served with mache salad, radishes and aioli
139:-
Carpaccio – Thinly sliced beef tenderloin served with crushed black pepper, lemon salt, pine nuts, parmesan, olive oil, arugula
105:-
Bruschetta with fresh tomatoes, garlic,basil, onion and parmesan
 78:-
Gubbröra – Anchovies mixed with boiled potatoes, leaks, onion, capers, dill, boiled eggs, lemon jucie, mayonaise,creme fraiche, salt and pepper served with crispbred
105:-
Garlic bread with aioli or cream cheese
68:-
Assorted cheeses served with crostini and strawberry- chili compte
115:-
| | |
| --- | --- |
| Rigatoni with slices of beef tenderloin, grilled red pepper, zucchini, garlic and cream | 205:- |
| Linguine with shrimps, chili, garlic, basil, lemon and olive oil | 205:- |
| Spaghetti Carbonara – Pancetta, garlic, cream and egg yolk | 140:- |
| Rigatoni with coctail tomatoes, fresh herbs, garlic and olive oil | 140:- |
| Spaghetti al Bottarga – Salted cured fish roe, garlic, lemon zest, fried bread crumbs, parsely and olive oil | 185:- |
| | |
| All pastas are served with parmesan and arugalamix | |
| | |
| --- | --- |
| Violet flower and blueberry panacotta | 99:- |
| Chocolate – lime mousse served with mixed berries | 99:- |
| Pistachio ice cream – served with strawberry, rhuberb and vanilla compote | 99:- |
| Sorbet, served with fresh fruit | 79:- |
| Assorted cheese served with crostini and strawberry-chili compote | 115:- |
| Truffles | 35:- |
| | |
Our menu
Our menu is updated with seasonal flavors and experiences. Of course, we still have some of our popular favorites. We hope and trust that you will find something to suit your taste buds.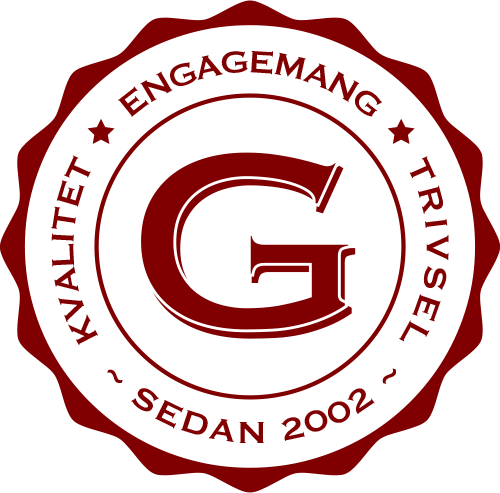 | | |
| --- | --- |
| Grilled beef tenderloin served with red wine sause, fried potatoes,grilled zucchini and red peppers | 285:- |
| Roasted whole sea bream fish with mediterranean potatoe sallad, lemon and salmoriglio sauce |  245:- |
| Oven roasted slices of lamb with fresh herbs and pecorino cheese in an envelope of filo pastry, served with a fennel-basil yogurt sause and a summer salad |  275:- |
| Grilled tuna fish with italian legumed ragu, lime and our own basil pesto |  275:- |
| Vitello tonnato – Traditional italian dish consisting of cold sliced braised veal convered with a sause made frome tuna fish, anchovies, egg,olivoil. Served with arugula, capers and lemon | 280:- |
Grappa
Minced meat, salami, tzatziki and arugula
135:-
Margherita
Tomato, cheese, mozzarella and arugula
95:-
De Luxe
Fillet of beef, mushrooms, onion, aioli, mozzarella and arugula
165:-
Parma
Parma ham, melon, tomato, mozzarella, parmesan and arugula
105:-
Funghi
Mushrooms, garlic, parsley, mozzarella and arugula
99:-
Toscana
Spicy salami, pepper, basil, garlic oil, onion and mozzarella
129:-
Capricciosa – Ham, fresh mushrooms and arugula
120:-
Bresolapizza
Bresola, parmesan, salt, pepper, truffle cream, lemon, pione nuts, mozzarella and arugula
165:-
Crayfish pizza
Crayfish, shrimps, aioli, mozzarella and arugula
159:-
Goat cheese pizza
Goat cheese, honey, walnuts, cherry tomatoes and basil
129:-
Vegetariana – Mushrooms, onion, peppers, artichoke and arugula

Piri-Piri
Minced meat, onions, pepper, piri-piri, garlic oil and arugula

120:-

135:-
Ceasarpizza – Chicken, romaine lettuce, crutons,aioli, parmesan and pancetta                         159:-
Pizzas can only be shared when you also order another meal to share!
Insalata Mix – salad with mixed vegetables              Order with halomi or Chevre 1/2 105:-      or   1/1 175:-
1/2 60:-
1/1 90:-

Insalata mare – salad with assorted seafood, leaty greens, radishes, red and white onion, garlic, scallions, grilles zucchini and lemon vinaigrette

245:-
Insalata Caprese – Mozzarela, coctail tomatoeas, fresh basil, onion, kalamata olives, oliv oil and red wine vinegear
175:-