Antipasto, Assorted italian charcuterie with marinated mediterranean vegetables
1 pers. 115:-
2 pers. 199:-
Tiger shrimps – fried with fennel, coctail tomatoes and Sambuca liqueur
120:-
Our own fresh ravioli filled with trufflecreme in butter and garlic sauce
89:-
Carpaccio – Thinly sliced beef tenderloin served with crushed black pepper, lemon salt, pine nuts, parmesan, olive oil, arugula
105:-
Bruschetta with gorgonzola cheese, pear, walnuts and fresh herbs
 78:-
Löjromstoast – Fish roe on butterfried bread, creme fraiche, diced onion, egg yolk and lemon
139:-
Garlic bread with aioli
68:-
Assorted cheeses served with bruschettini and cherry – ginger compot
115:-
Fetuccine with slices of grilled beef tenderloin, shallots, roasted chestnuts, thyme and butter
205:-
Linguine with shrimps, white wine, chili, garlic, coctail tomatoes in a shrimp bisque sauce
205:-
Spaghetti Carbonara – Pancetta, garlic, cream and egg yolk
145:-
Risotto Mare – seafood risotto with garlic, parsley, coctail tomatoes, carnaroli rice and bisque
245:-
Fetuccine with gorgonzola cheese, cream, romanesco broccoli and roasted welnuts
155:-
Linguine salsiccia – Chopped fresh italian sausage in a tomatoe sauce with rosemary and garlic
158:-
Risotto ai carciofi – with artichokes, dill, carrots, onions and lemon

Spaghetti Mare – Seafood pasta with garlic and tomatoe sauce

179:-

220:-
All pastas are served with parmesan and arugalamix
| | |
| --- | --- |
| Chocolate fondant with vanilia ice cream spiked with Makers Mark | 99:- |
| Amaretto creme brulee | 99:- |
| Dark rum and cinnamon panacotta topped with dried fruits | 99:- |
| Sorbet, served with fresh fruit | 79:- |
| Assorted cheese served with brushettini and cherry – ginger compot | 115:- |
| Truffles | 35:- |
| | |
Our menu
Our menu is updated with seasonal flavors and experiences. Of course, we still have some of our popular favorites. We hope and trust that you will find something to suit your taste buds.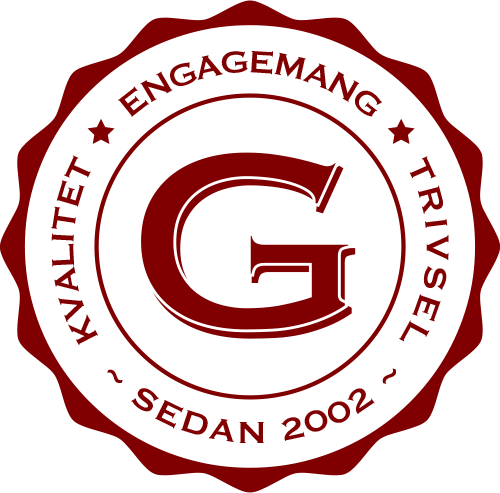 Grilled beef tenderloin served with roasted black salsify root, balsamic caramelised brussel sprouts, fried potatoes, red wine sauce and herb butter
285:-
Roasted whole red snapper served with orange salmoriglio sauce, sauteed chard and fennel
 245:-
Butter fried venison tenderloin with juniper-gin sauce served with horseradish pannacotta and root vegetable chips
 269:-
Osso Buco con risotto Milanese – Classic italian ragu with veal shank, celery, carrots and onion served with gremolata sauce and Milanese risotto
 225:-
Anglerfish poached in bisque served with romanesco broccoli, potatoes, carrots and beetroot chips

Braised rabbit served with chocolate – rosemary sauce, wild rice, roasted chestnuts and cherry-ginger compot

259:-

229:-
Grappa
Minced meat, salami, tzatziki and arugula
135:-
Margherita
Tomato, cheese, mozzarella and arugula
95:-
De Luxe
Fillet of beef, mushrooms, onion, aioli, mozzarella and arugula
165:-
Parma
Parma ham, melon, tomato, mozzarella, parmesan and arugula
105:-
Funghi
Mushrooms, garlic, parsley, mozzarella and arugula
99:-
Toscana
Spicy salami, pepper, basil, garlic oil, onion and mozzarella
129:-
Hawaii – Ham, pineapple and arugula
120:-
Carpacciopizza
Raw sliced fillet of beef, parmesan, salt, pepper, truffle cream, lemon, pione nuts, mozzarella and arugula
165:-
Crayfish pizza
Crayfish, shrimps, aioli, mozzarella and arugula
159:-
Goat cheese pizza
Goat cheese, honey, walnuts, cherry tomatoes and basil
129:-
Vegetariana – Mushrooms, onion, peppers, artichoke and arugula

Piri-Piri
Minced meat, onions, pepper, piri-piri, garlic oil and arugula

Salsicca – Tomatoe sauce. salsicca, mushrooms, onion and bearnaise

120:-

135:-

139:-
Pizzas can only be shared when you also order another meal to share!
Insalata Mix – salad with mixed vegetables
1/2 60:-
1/1 90:-

Insalata mare – Assorted seafood, leafy greens, , onion, garlic, coctail tomatoes, radishes and herb vinaigrette

245:-
Winter Caprese with roasted San Marze tomatoes, mozarella cheese, fresh pesto, pine nuts, and balsamic vinegar glaze
175:-