Antipasto – Assorted italian charcuterie with marinated mediterranean vegetables
1 pers. 115:-
2 pers. 199:-
Chevrétoast topped with honey, walnuts and strawberry
89:-
Forrest mushroom soup with créme fraiche and toast
90:-
Carpaccio – Thinly sliced beef tenderloin served with crushed black pepper, lemon salt, pine nuts, parmesan, olive oil, arugula
105:-
Bruschetta with fresh toamtoes, basil, onion, garlic and parmesan
 78:-
Bleak roe toast – Butter fried bread, vendace roe, créme fraiche, red onion, egg zolk and lemon
139:-
Garlic bread with aioli or cream cheese
68:-
Assorted cheeses served with strawaberry chili compote
115:-
| | |
| --- | --- |
| Tortiglioni with slices of fillet of beef -red pepper, zucchini, garlic and thyme in a rosé sauce | 205:- |
| Tortiglioni with tiger prawns – red pepper, feta cheese, garlic, parsley, bisque and tomato sauce | 205:- |
| Spaghetti Carbonara – Pancetta, garlic, cream and egg yolk | 149:- |
| Risotto Mare – mixed shellfish, garlic, parsley, cocktail tomatoes, carnarolirice and bisque | 245:- |
| Spinach risotto with leeks, dill, lemon, carnaroli rice and feta cheese | 159:- |
All pastas are served with parmesan and arugalamix
| | |
| --- | --- |
| Desert of the week | 99:- |
| Vanilla ice cream with fresh strawberries, chocolate syrup and whipped cream | 99:- |
| Sorbet served with fresh fruit | 79:- |
| Assorted cheese served with crostini and strawberry chili compot | 115:- |
| Truffles | 35:- |
Our menu
Our menu is updated with seasonal flavors and experiences. Of course, we still have some of our popular favorites. We hope and trust that you will find something to suit your taste buds.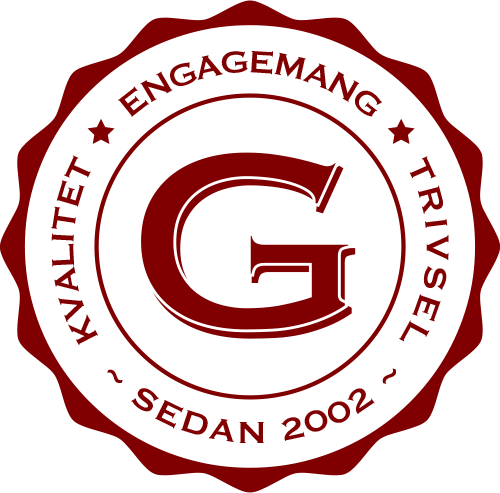 | | |
| --- | --- |
| Fillet of beef with grilled vegetables served with fried potatoes, herb butter and a reducttio sauce on balsamic vinegar, dried fruit, red onion and tomato | 289:- |
| Roasted whole fish with mediterranean potato salad and salmoriglio sauce |  245:- |
| Entrecôte with grilled vegetables served with fried potatoes and a smoky blackberry and rosemary sauce |  289:- |
| Cod back with fresh herbs served with lemon, spinach, leeks and sautéed potatoes topped with vendace roe vinegrette |  249:- |
| | |
Grappa
Minced meat, salami, tzatziki and arugula
135:-
Margherita
Tomato, cheese, mozzarella and arugula
95:-
De Luxe
Fillet of beef, mushrooms, onion, aioli, mozzarella and arugula
165:-
Parma
Parma ham, melon, tomato, mozzarella, parmesan and arugula
105:-
Funghi
Mushrooms, garlic, parsley, mozzarella and arugula
99:-
Toscana
Spicy salami, pepper, basil, garlic oil, onion and mozzarella
129:-
Hawaii – Ham, pineapple and arugula
120:-
Ceasarpizza
Cicken, romaine lettuce, pancetta, aioli, parmesancheese and breadcrumbs
165:-
Crayfish pizza
Crayfish, shrimps, aioli, mozzarella and arugula
159:-
Goat cheese pizza
Goat cheese, honey, walnuts, cherry tomatoes and basil
129:-
Vegetariana
Mushrooms, onion, peppers, artichoke and arugula
120:-
Piri-Piri
Minced meat, onions, pepper, piri-piri, garlic oil and arugula
135:-
Gorgonzola
Tomato, cheese, gorgonzola, oxfilé, mushroom and bearnaise sauce
165:-
Bianco
Cheese, truffle salami, onion, mushrooms and truffle oil
135:-
Pizzas can only be shared when you also order another meal to share!
Insalata Mix – salad with mixed vegetables
1/2 60:-
1/1 90:-
Salad with deepfried halloumi cheese – parma ham, grapes, onion, pine nut, melon and vinaigrette
165:-
Watermelon and feta cheese sallad topped with fresh mint
120:-
Chevrécheese salad with mixed vegetables, walnuts, figs, pear, vinaigrette and honey
160:-
Shrimp and crayfish salad with hans-peeled prawns and crayfish, mixed salad varieties, radishes, red onion, cocktailtomatoes, avocado, vinaigrette and aioli
210:-
Ceasarsalad

Chicken: 165:-

Shrimps: 180:-

Chicken and shrimps: 195:-